CONFERENCE: Utopias at Sea
1ST FLOATS SUMMER MEETING
13-15 JULY 2018 LESVOS ISLAND, GREECE
FLOATS organized its first event in cooperation with the Summer School "Cultures, Migrations, Borders" & the Department of Social Anthropology and History at the University of the Aegean (Lesvos)
UTOPIAS AT SEA
The sea – like the concept of utopia itself – does not feature much in our current social theories, let alone our contemporary political rhetoric or social imagination. If anything, the sea seems lately to assume a villainously protagonist role in many of our present-day dystopic realities: harrowing images of the liquid refugee cemetery of the Mediterranean, depressing statistics of declining aquatic life, floating waste and toxic maritime pollution, or the impending threat of rising sea levels dominate our news from neighboring seascapes. In this regard, the sea has now become the reflecting interface of multiple dystopias-in-the-making, whether as murderous border regimes or impending ecological disasters (oil spills in Atlantic; plastic islands in the Pacific) or as sites for world-threatening naval stand-offs (South China Sea).
Artists and activists, by contrast, have long since continued to embrace the sea as an important field of 'eutopian' reflection, emancipation and awareness; indeed much activism has as of late taken place in the sea in order to challenge various forms of enclosure and siege imposed by states and their armies (Gaza Ships; Refugees Welcome.)
Meditating upon these themes together, we also hope to explore the typically fraught if not ambiguous character of utopianism, more specifically, the interplay between utopia and dystopia: either as dualistic if not antagonistic visions of order and disorder, creation and chaos, or futuristic revolutions and apocalyptic endings. Our aim for this summer conference therefore is to consider both how practices and theories of utopia at sea were and remain fundamental to our understandings of our collective pasts, presents and futures, and how they might now guide the imagination and realization of politics as and in action in our ever increasingly connected or global liquid life.
PUBLIC WORKSHOP
"UTOPIAS AT SEA: REFUGE, RESISTANCE, RESEARCH"
Our first, inaugural summer meeting in Lesvos, Greece [13-15 July 2018] explored the practices and theories of utopia at sea. Bringing together academics, artists, activists and others, we collectively considered a variety of imagined or reasoned conceptions of the perfect social order through the vantage point of the sea. Among the themes we explored together this summer are the many pressing past and present challenges as well as creative opportunities of both seas and shorelines, from maritime waste and environmental degradation to protests at sea and futuristic maritime bunkers, and from practices of labor and leisure to the realities of refugees and revolutionaries in and through the Mediterranean, to name but a few.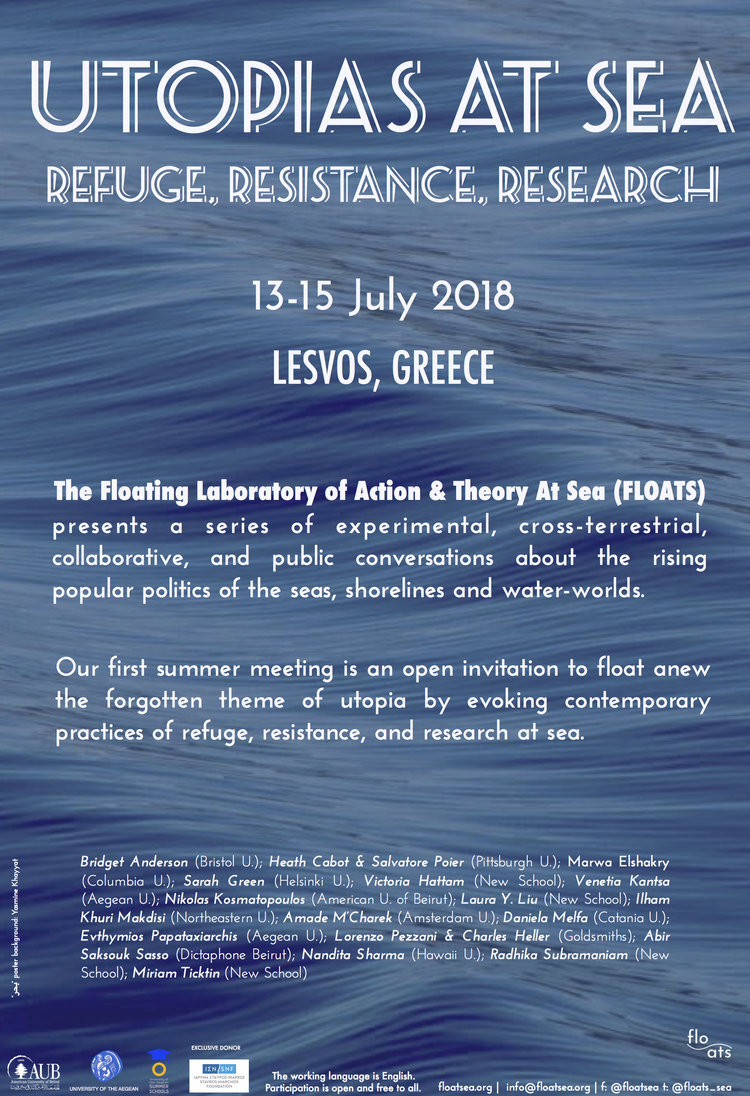 CONFERENCE SCHEDULE
13-15 JULY 2018
FRIDAY, 13TH JULY 2018 (PLOMARI, POLYKENTRO)
09.30-10.00 | Welcome Note
Marwa Elshakry, Nikolas Kosmatopoulos, Evthymios Papataxiarchis
10.00-11.30 "CROSSINGS"
Live Cargo - Radhika Subramaniam, The New School
Authority at the Port: Industry, Labor, and War - Laura Y. Liu, The New School
Moderator: Marwa Elshakry, Columbia University
11.30-12.00 - Coffee break
12.00-13.30 - "MARKS"
Watermarks - Victoria Hattam, The New School for Social Research
Tracing the Debris - Sarah Green, University of Helsinki
Forensic Oceanography - Lorenzo Pezzani (Goldsmiths) & Charles Heller (University of Geneva)
Moderator: Radhika Subramaniam, The New School for Social Research
13.30-14.30 - Lunch Break
14.30-16.00 - "REGION"
The Mediterranean Remapped: A Platform of Potentialities - Heath Cabot & Salvatore Poier, University of Pittsburgh
Revisiting (North-African) History Through a Maritime Lens: Notes and Insights - Daniela Melfa, University of Catania
Moderator: Sarah Green, University of Helsinki
DAY 2
SATURDAY, 14TH JULY 2018 (PLOMARI, POLYKENTRO)
10.00-11.30 - "TECHNOLOGIES"
Seeing from the Sea - Miriam Ticktin, The New School
Atlas of the Sea - Elisa Kim, Smith College
Sea topology and kinship (re)considerations - Venetia Kantsa, University of the Aegean
Moderator: Heath Cabot, University of Pittsburgh
11.30-12.00 - Coffee Break
12.00-13.30 - "UTOPIAS"
'Let all know how empty and worthless is the power of kings"…A Sea View - Bridget Anderson, University of Bristol
Dystopic Utopias and the Uchronian Dystopias Across the Seas: The Imagination of Futurism - Marwa Elshakry, Columbia University
All that solidarity does not melt into the sea - Nikolas Kosmatopoulos, American University of Beirut
Moderator: Miriam Ticktin, The New School for Social Research
13.30-14.30 - Lunch Break
14.30-15.30 - "COMMONS"
The Oceans, Freedom of Movement and the struggle for a Global Commons - Nandita Sharma, University of Hawaii at Manoa
The Legacy of Old Laws and the Fight for the Commons in Lebanon - Abir Saksouk-Sasso, Dictaphone Beirut

Moderator: Elisa Kim, Smith College
DAY 3 | PUBLIC EVENT: FLOWS | TRACES| FOLDS
SUNDAY, 15TH JULY 2018 (MOLIVOS, OLD MOSQUE)
AIM
A creative, informative, entertaining, and thought-provoking event accessible- in format, theme, and language- to everyone who chooses to attend.
FORMAT
The public event will include three 1-hour long roundtables on flows, traces, and folds, respectively. They will feature 12 speakers, a mix of international guests and Lesvos-based artists & academics.
The roundtables will include 10-minute-long individual presentations, followed by moderated discussion and Q&A from the audience.
SCHEDULE
6:30 P.M. - Introduction
6:40 P.M. - Roundtable 1 | Flows
7:50 P.M. - Roundtable 2 | Traces
9:00 P.M. - Roundtable 3 | Folds
10:00 P.M. - DJ Set
ROUNDTABLE 1 | FLOWS
Panelists
Bridget Anderson | Bristol University

Elisa Kim | Smith College

Radhika Subramaniam | New School, New York
ROUNDTABLE 2 | TRACES
Panelists
Alexandros Kyriakatos | Artist, Lausanne

Lorenzo Pezzani | Goldsmiths

Charles Heller | Geneva University

Abir Saksouk Sasso | Architect, Dictaphone Beirut

Konstantinos Topouzelis | Marine Sciences, University of the Aegean
ROUNDTABLE 3 | FOLDS
Panelists
Michael Dodson-Sifnaios | Architect & Artist, Lesvos

Grey Filastine | Artist & Musician, Barcelona

Sarah Green | Anthropology, Helsinki University (TBC)

Miriam Ticktin | Anthropology, New School in New York
DJ Set by Filastine (@FilastineArt) following event!
INVITED SPEAKERS
Bridget Anderson | University of Bristol
Heath Cabot & Salvatore Poier | University of Pittsburgh
Marwa ElShakry | Columbia University
Sarah Green | University of Helsinki
Victoria Hattam | New School
Charles Heller | Geneva University
Venetia Kantsa | University of the Aegean
Nikolas Kosmatopoulos | American University of Beirut
Laura Y. Liu | New School
Elisa Kim | Smith College
Daniela Melfa | Catania University
Lorenzo Pezzani | Goldsmiths University
Abir Saksouk-Sasso | Dictaphone Beirut
Nandita Sharma| University of Hawaii
Radhika Subramaniam | New School
Miriam Ticktin | New School